Hi!

I Just wanted to say that ordering from you guys was the best ever!!!! I ordered this outfit for a rave at a yearly convention. People were commenting on my outfit left and right! And people were asking me where I got all me furry accessories, so I referred, all who asked, to your website. I loved how they were UV activated, that was the highlight of the outfit! It was comfortable and easy to dance in. Thank you for one of the BEST Nights of my life!!!!

Kitty Maniac
~~~~~~~~~~~~~~~~~~~~~~~~~~~~~~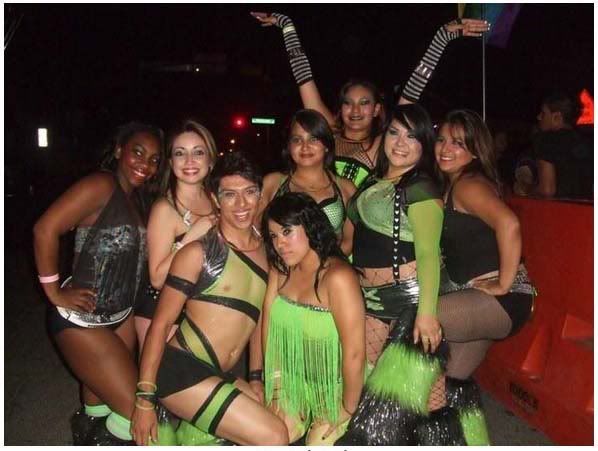 Hey There!

I just wanted to say Thank you for making our furry boot warmers in time for our performance! We got them way before then expected! Everyone loved them, the crowd went crazy for our dance, your boots were the cherries on top of a huge cupcake! Thanks again!

Your Friends,

The Allure Dance Team of El Paso, Texas

-Co Captain, Krystal
~~~~~~~~~~~~~~~~~~~~~~~~~~~~~~
I LOVE THESE FLUFFIES!!!! I own a couple different brands (insanity, adjamiba, cyberdog) but in my opinion, these are by far the nicest ones I own and they are so soft <3 Thank you so much you guys! xoxo

-3L3CTRO
~~~~~~~~~~~~~~~~~~~~~~~~~~~~~~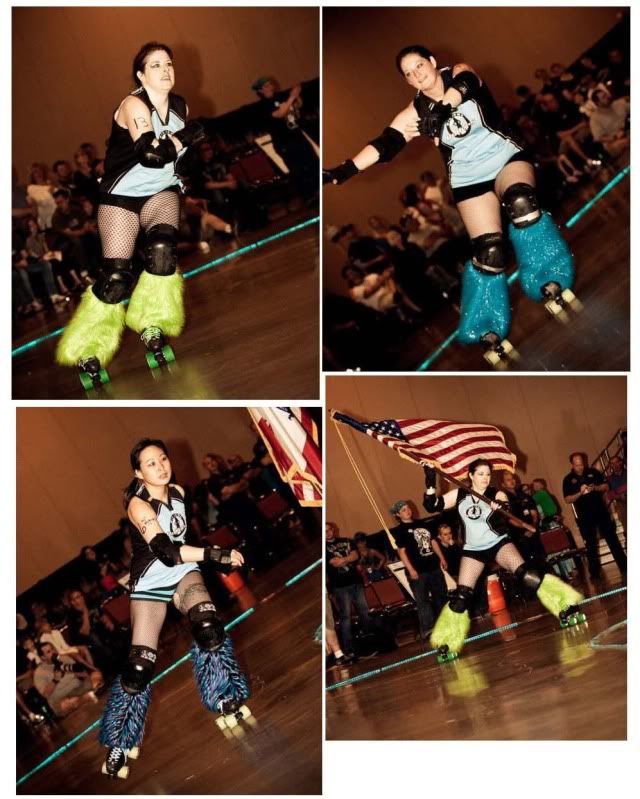 Hi,

I'm emailing to say thank you for the great fuzzy legwarmers! I'm with the mid Iowa Rollers of Des Moines, IA (of women's flat track roller derby) and three of us on the team recently purchased the legwarmers and had a chance to show them off on May 15th, 2010. We all got great compliments on them and they were very comfortable to play in... not too hot and did not interfere with our abilities to play. I attached pictures from the May 15th game. Feel free to post any or all on your website :) In the pictures, myself (mississippi Bruise) in the neon blue, Babyface Basher (in the lime green), and Wonton Hammer (in the purple and blue). I may have to order a second pair-- just to have a different color to play in!

Mad Derby Love to Vinyl Dolls!
Mississippi Bruise
Wonton Hammer
Babyface Basher
~~~~~~~~~~~~~~~~~~~~~~~~~~~~~~
When I bought my blue skirt at the Black Market, you had asked for photos. Here they are! Thank you so much for making awesome fuzzy stuff. You've inspired me to go past my black clothes and add a splash of fuzzy color. I've had fun showing off at Bat's Day every year and I always get compliments. You rock!

-Evaxebra
~~~~~~~~~~~~~~~~~~~~~~~~~~~~~~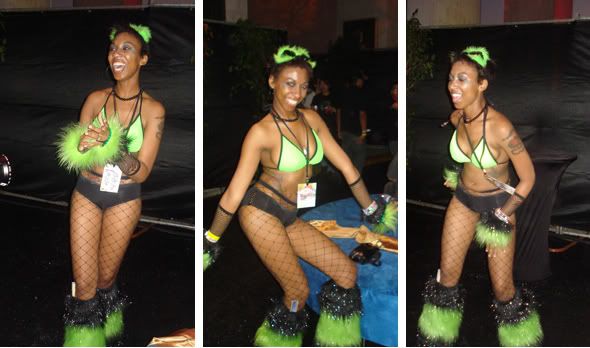 Hello There!

My friends call me NEON. Awhile back I ordered a few items from you for a massive rave out in LA. My outfit was a BIG hit! Everyone loved my leg warmers and matching cuffs. I even had a camera crew film me dancing! I just wanted to thank you for such an awesome product. It all fit great and stayed looking great for all 14 hours I was dancing and having fun.

Thanks!
NEON

PS, I threw in a few pics of me at the rave. Your leg warmers and cuffs rock!
~~~~~~~~~~~~~~~~~~~~~~~~~~~~~~